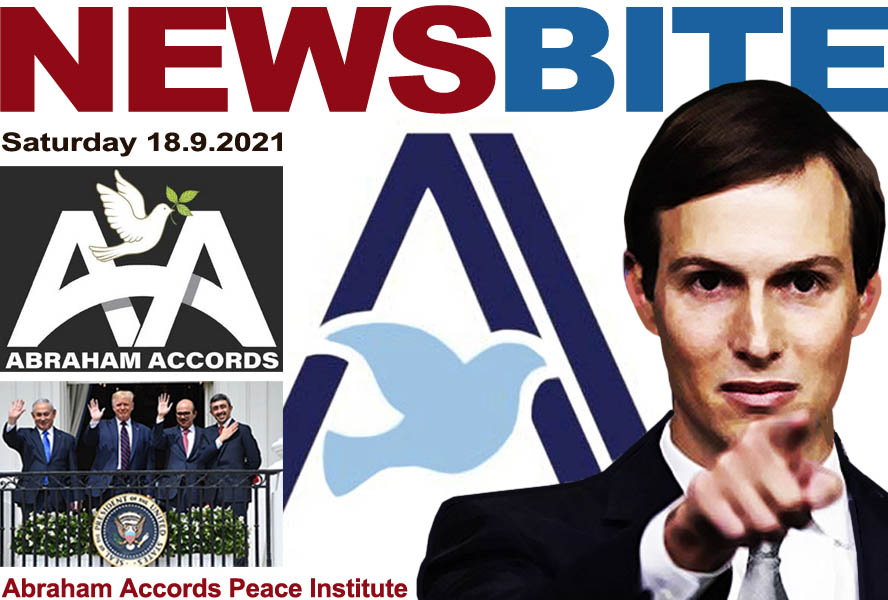 Earlier this week in an online news release it has been reported that the architect of President Trump's Mideast peace strategy delivered a keynote address at a launch event for his Abraham Accords Peace Institute, a non-partisan organization to build on and expand the trade, tourism and economic growth impact of the Accords and to encourage other countries to join the Accords.  According to the report former White House Advisor Jared Kushner called for bipartisan cooperation to advance the historic peace treaty.
"All you get in a peace agreement is you get people to change their minds," he said at a ceremony commemorating the one-year anniversary of the Abraham Accords. "But right now, thanks to these agreements, we are watching the Middle East transform.  Breakthroughs like this don't just happen," he said. "They require intense diplomacy, which involves doing a lot more listening than lecturing and by spending the work in trying to find common ground and common areas for growth and bringing people together."
Within months of the Sept. 15, 2020 signing of the treaty between Israel, the United Arab Emirates and Bahrain, three more countries followed suit. "Sudan, Kosovo and Morocco joined the effort, breaking with the past and signing full normalization agreements of their own," Kushner said. "Five peace agreements in five months after just two peace agreements in the previous 70 years following in the footsteps of Egypt and Jordan" he said.
"Just look at what has happened in one year: Israel has appointed ambassadors, opened embassies or diplomatic offices in the UAE, Bahrain and Morocco and vice versa; more than 230,000 Israelis have already travelled to UAE; and hundreds of business transactions have taken place already. The Abraham Accords is the rare form of foreign policy after that has achieved a bipartisan consensus and this is very, very important," Kushner said."
According to the prophet Isaiah Chapter 28:14-15 a time will come when the leaders of Israel will enter into a covenant or a peace accord with other Arab nations to form an alliance for Israel's ongoing security in the Middle Eastern region. The Abraham Accord it seems has kick started this peace process already. As the peace accord grows and expands the whole world, will to a degree, express a sigh of relief especially in the European Union, the United Nations, the United Kingdom and in America. Of course Iran by then will have nuclear capability which according to Benny Gantz, the Israeli Defence minister, is only a matter of weeks away. This growing peace accord will produce "the illusion" that things are progressively getting better in the Middle East even if COVID-19 is still active in the world at large.
Now God has a different perspective. In Isaiah Chapter 28:14-15 the prophet Isaiah writes that the leaders of Israel in effect "scoff" as they rule and do not bring the Lord and the teachings of Torah into the equation at all, especially when you consider Israel's rejection of their Messiah our Lord Jesus (Vs. 14).  These leaders in Israel we are told by the prophet Isaiah even "boast" of this covenant with death that leaves God out of the agreement and pride themselves on their achievement. Isaiah sees the attitude of their inner thoughts and sees that these leaders have the false assurance that if Israel is attacked that their covenant with the Arab nations will bring about a united front against the aggressors hell-bent on destroying Israel.
Isaiah says that Israel's refuge will not be in the Lord but in a lie and falsehood (false gods) (Vs.15). Suddenly and without warning Israel's covenant with death brokered with the pagan nations will be annulled by a sudden invasion which will come from the North when they least expect it (Ezekiel 38:8-12). At this time the Arab nations will not come to their defence (Ezekiel 38:13). This will initiate the Day of the Lord which will be a serious of sequential events over a short period of time lasting for three and a half years that will abruptly end with the Second Coming of the Messiah our Lord Jesus to this earth (Matthew 24:21-22, 27). In Matthew 24:15ff the final abomination will occur in God's Temple where the man of sin will set himself up as God and install his Image in the temple (Daniel 11:36) (2 Thessalonians 2:4).
Now Paul writing his first letter to the assembly of New Covenant believers at Thessalonica speaks about the Day of the Lord and that this day will come when the world by and large do not expect it to come.
Let's look at 1 Thessalonians Chapter 5:1-11
(1Thessalonians 5:1-3). "Now as to the times and the epochs, brethren, you have no need of anything to be written to you. For you yourselves know full well that the day of the Lord will come just like a thief in the night. While they are saying, "Peace and safety!" then destruction will come upon them suddenly like labour pains upon a woman with child, and they will not escape."
Now the Lord Jesus Himself said that He would come back when He is least expected and as it was in the days of Noah before the flood, people will be engaged in their daily activities, eating, drinking, marrying, indulging their sinful appetites and conducting business as usual with a complete disregard for God. The world will be in an advanced state of spiritual decay and completely corrupted, racked with wars, famines, earthquakes, disease, false prophets, apostasy and wicked and evil men and women both within and without wider Christendom deliberately pursuing evil all of the time (Genesis 6:5).
Even after WWIII has occurred The people of this world by and large will refuse to repent of their own business accomplishments, worshipping demons and the idols of wealth and prosperity, their murders, their involvement with the occult and of their sexual immorality and perversion and of their thefts  (Matthew 24:7-12) (Revelation 9:12-21). In the time of Noah, when the wrath of God fell upon the unsaved people of the world, they were totally unprepared and taken completely by surprise! The conditions that were prevalent in the time of Noah are conspicuous features of this present generation and what the Lord Jesus Himself said these days would be like. When the watery deluge came the wicked were swept away in Judgement but the righteous spared (Matthew 25:37-42). The last judgement will be by fire (2 Peter 3:7-10,12b).
Paul goes on to write…
(Vs.4-7) "But you, brethren, are not in darkness, that the day would overtake you like a thief; for you are all sons of light and sons of day. We are neither of night nor of darkness; so then let us not sleep as others do, but let us be alert and sober. For those who sleep do their sleeping at night, and those who get drunk get drunk at night."
In these last of the last days as New Covenant believers we are not to be like the people in this world who do not know God or who could not care less for the salvation He has provided for them in His One and Only begotten and eternal Son, the Messiah our Lord Jesus (John 14:6) (Acts 4:12). We are not to be found sleeping in sin and spiritual darkness but to be staying spiritually alert and self-controlled and not to be spiritually lazy or engaging in the works of darkness because we belong to the day of God's kingdom of light and truth and not to the night of Satan's kingdom of darkness and lies.
And then Paul continues…
(Vs.8-11) "But since we are of the day, let us be sober, having put on the breastplate of faith and love, and as a helmet, the hope of salvation. For God has not destined us for wrath, but for obtaining salvation through our Lord Jesus Christ, who died for us, so that whether we are awake or asleep, we will live together with Him. Therefore encourage one another and build up one another."
Spiritual sobriety is desperately needed within the wider Body of the Messiah, not laughter, merrymaking, having a good time and taking it easy in this world. The breastplate of faith and love covers the heart and are to be the garrison of the heart being the seat of the affections. Our faith is a faith that works by the love of God shed abroad in our hearts by the Holy Spirit (Galatians 5:6) (James 2:14-16) (Romans 5:5). It is a tough love that primarily works through the action of the will and not just by fleeting emotions which fluctuate. The helmet is the hope of salvation that garrisons the thoughts by the Word of God because our minds are the spiritual battlefield. Years ago a brother in the Lord said that "Some Christians are walking battlefields!"
Added to this, as New Covenant believers, even though we are destined in this life for great tribulation (Greek-"thlipsis"), we are not destined for wrath (Greek-"orge") but to obtain full and complete salvation, deliverance and rescue through, and by, our Lord Jesus the Messiah. He, whose blood has fully and forever atoned for our sins, redeemed us back to God and procured for us the forgiveness and cleansing of all our sins, and that according to the richness of His unmerited favour towards us who believe in Him (Ephesians 1:7) (1 John 1:7-9).
Not only this, but His pure and untainted blood, and by faith in His blood having been applied to the doorposts of our heart, will save and protect us when the destroying angel passes through the Egypt of this world right at the end of the night of Great Tribulation. As Paul writes; "Since we have now been justified by His blood, how much more shall we be saved from God's wrath (orge) through Him" (Romans 5:9). In this life, whether we fall asleep in the Lord Jesus, being absent from the body but present with the Lord, or are still here physically when He arrives, we will all live together with Him! (1 Thessalonians 4:13-18).
Jared Kushner I am sure wants to see a middle-east peace and Jerusalem at peace with its Arab Islamic neighbours, but according to the Word of God there cannot be, or will not be any true and lasting peace in the Middle-East or anywhere in the world for that matter, until the prince of Peace reigns and dwells on the original sight of Mt Zion in the City of David  (Isaiah 8:18) (Psalm 74:2) (Isaiah 24:23) (Psalm 2:6) (Joel 3:21). Only then will Israel's covenant with death be truly annulled and replaced with the blessings of the New Covenant of life bestowed through the blood of the Messiah!
Spiritually speaking, Israel's covenant with death was annulled at the cross and in the Messianic Kingdom on earth this spiritual truth will have become a physical reality for the City of Jerusalem and for the people of Israel! This is our future hope as New Covenant believers having been spiritually grafted into the Commonwealth of Israel and partakers of the blessings promised to Abraham and to his descendants. (Romans 11:17-18) (Ephesians 2:11-22) (Romans 4:16).
As Isaiah writes concerning the future kingdom of the Messiah; "For unto us a child is born, unto us a son is given, and the government will be upon His shoulders. And He will be called Wonderful Counsellor, Mighty God, Everlasting Father, Prince of Peace. Of the increase of His government and peace there will be no end. He will reign on the throne of David and over his kingdom, to establish and sustain it with justice and righteousness from that time and forevermore. The zeal of the LORD of Hosts will accomplish this!" (Isaiah 9:6-7).